Lack of time is probably the most common problem many students face. With piles of home assignments, obligations, dates, parties, or part-time jobs, it is difficult for them to pick their top priority. Sometimes, a miracle can happen, and your studies take a back seat. You don't want to drop out, and that's probably the main reason why you are here. And that means that you need a writer who will help with your paper and won't charge too much for their services.
Finding the most trustworthy and reliable custom writing service isn't easy. So, we decided to come up with a series of essay service reviews to help you make an educated choice. And in this Bid4Papers review, we are going to be looking at the Bid4Papers.com platform from different perspectives.
It is a Cyprus-based company that offers writing and research services to students all over the world. The list of the services they offer is pretty standard — they will either write or edit a paper for your high school or college.
We've been able to test the quality of their services, so we will share with you our thoughts on whether the final product is worth the money you pay for it. So, let's start our Bid4Papers review and take a good look at their pricing policy, quality of their work, and effectiveness of their customer support.
Looking at Prices
Since Bid4Papers relies on a bidding system, there are no fixed prices for the services they offer. You place an order, and then their writers calculate the price and place their bids. As you have probably understood, you are free to pick a writer and choose the price of your order on your own.
Thanks to the bidding process, you get to choose the most reasonable price. However, you don't have any idea how much money you are going to pay when placing an order. You never know if the paper's price will be identical to that of other companies or whether it'll be too high.
Also, you are not provided with any discounts. Bid4Papers believes that the bidding process between its customers and writers should take place on a free-market basis. It means the writers themselves decide whether they will provide you with a discount. They are convinced that such an approach allows them to keep a balance between paying fair salaries to writers and providing affordable prices to customers.
My Opinion About the Quality
Since I am the one who conducted this Bid4Papers review and tested the company's efficiency, I'll share with you my thoughts on the quality of the paper received. I decided to order an essay on the following topic: "Is it a violation of the Fourth Amendment for the NSA to collect metadata?".
It says on their site that I can choose the level I want my paper to be done in. So, I picked one that guaranteed an A-level document. Since I had a right to assign a writer with solid writing experience, I expected to get a great paper.
The writer read my instructions carefully, asked me several questions concerning the task, and that was pretty much it. In a couple of days, I received an essay written in accordance with all my recommendations. I was more than satisfied with the final product. I checked the paper for plagiarism, and the result I came up with was quite impressive — 96%. I should admit that this is a good indicator since no work could be 100% unique.
So the quality of the essay I received met all my expectations.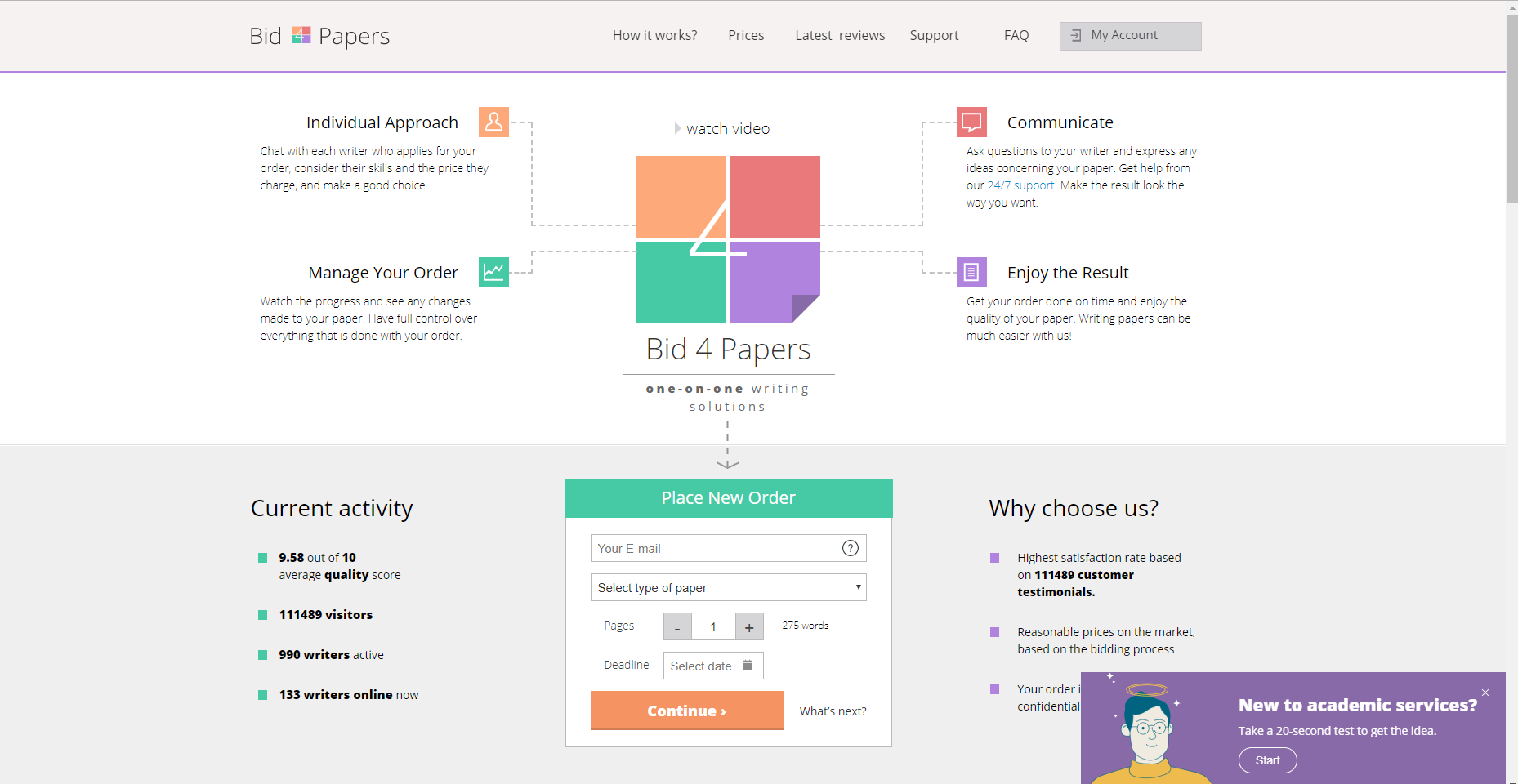 Support Service Responsiveness
Bid4Papers does not have a live chat, nor a phone number for customers to reach them with. You'll have to click the "Support" button to be able to email them.
The fact that you should place an order before you are able to contact their support disappointed me a little. It means that you cannot ask for help until you are not their customer. I think that's a bit unfair. People have a lot of questions at the pre-order stage, and if they don't get them answered, the company runs the risk of losing potential customers.
Once you send them an email, you create a ticket. You can choose between 3 types of support:
General support — deals with your orders, payments, or your profile
Sales — helps you with prices and order placement
Development — takes care of canceled orders
It says on their site that you're guaranteed to get a reply in 7 mins. I got an answer in 10 mins, which is pretty close to the said response time.
As my Bid4Papers review proves, you will get help with all kinds of issues with your writer, order status, paper quality, and payment.
Customer Service and Delivery
To place an order, you'll need to fill out an order form and provide your precise instructions. After that, you'll start receiving proposals from the writers and be able to chat with them online. Once you are ready to select the writer, you should deposit the required amount of money into your Bid4Papers account. The writer doesn't receive money at this stage. You can control the writing process and chat with them at any time you want. You are also welcome to ask any kind of questions or express your opinion about the paper.
Once the paper is ready, you will get a notification by email. I received my essay on time, and its quality met all my expectations.
Conclusion
I recommend that you consider all the pros and cons before deciding to place an order with this company. Bid4Papers has its own approach to delivering paper-writing services, so you should keep that in mind. Otherwise, the result you'll get may not live up to your expectations.
Was this Bid4Papers review helpful for you? Please, leave your reply in the comment section below.